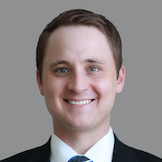 Dr. Jason Cody Hedge was born and raised in the Houston area, where he graduated from Deer Park High School. He earned his bachelor's degree in Neurobiology at the University of Texas at Austin. He completed medical school at the University of Texas Medical School at Houston.
After medical school, he completed a transitional internship at John Peter Smith Hospital in Fort Worth, Texas. He then completed a diagnostic radiology residency at Oregon Health & Science University and a fellowship in vascular and interventional radiology at the Dotter Interventional Institute in Portland, Oregon. Following fellowship, Dr. Hedge joined Salem Radiology Consultants in August of 2020.
Dr. Hedge enjoys spending time with his wife Stephanie. He has a variety of other interests including hiking, golf, travel, graphic design, and sports.