A computed tomography (CT) scan allows your doctor to see inside your body, but do you know what it can detect? This technology utilizes X-rays as well as a computer and creates pictures of your bones, organs, and other tissues inside your body. One of the benefits of a CT scan is that it provides more detailed images than a regular X-ray does.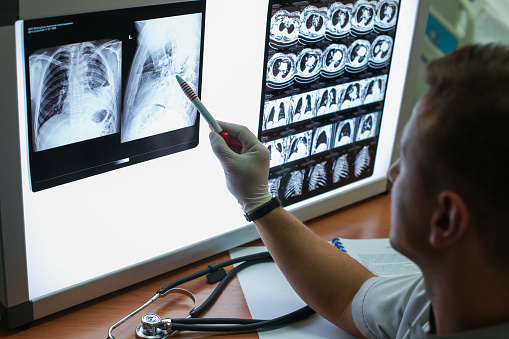 A CT scan is painless, doesn't take very long, and can be performed on any part of your body. The scan provides multiple images using different angles and then the computer pieces the images together and creates a cross-sectional image. Scans are stacked on top of each other to create a 3D image. Your doctor can study the image to see what your bones, organs, or blood vessels look like.
CT scans are used for a variety of reasons and can detect many conditions including:
Bone, muscle, and joint problems including tumors and complex bone fractures
Cancer
Heart disease
Liver masses
Emphysema
Internal images and bleeding (after an accident)
Pinpointing the exact location of tumors, infections, or blood clots
Excess fluids
Lung nodules
CT scans can also be used to guide treatments plans or procedures including biopsies, radiation therapy, and other surgeries. The scans can be compared to determine whether or not certain treatments are working effectively with cancer treatment being the most common.
There are some drawbacks to having a CT scan including the long-term radiation exposure risks. Thankfully, those risks can be substantially diminished by using a low dose CT technology, which also provides higher quality than machines with more radiation.
Salem Radiology has the only low dose CT technology machine in the mid Willamette Valley. We have been proudly serving the area since 1973 and are the largest radiology group in the area. Contact us today to learn more or schedule an appointment.
Related Posts